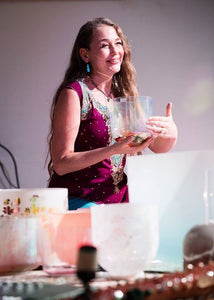 Learn about the healing sound energetics offered through Crystal Alchemy Singing Bowls! 

Receive a 1/2 hour lesson to determine the crystalline and sound energetics that best serve You!
Together you will focus on how to clear energetic blockages and which blessings You want to invite in to your reality.

Did you know that Rasamayi is the only person in the world who has been identified as a Singing Bowl Alchemy Master-Teacher? As a singing bowl master alchemist with many lifetimes' memories of working with these sacred instruments, Rasamayi has personally overcome profound disabilities including major depressive disorder and endometriosis.

She is gifted and inspired to share with the you the wellness, joy and spiritual healing she has discovered through this very unique healing music.

We will contact you within 48 hours to schedule consultation.